Introduction
A bridge crane is a piece of equipment that is used in industrial applications to lift light, medium, and heavy components. Bridge cranes are usually mounted on the supporting structures of buildings and industries. Overhead cranes can either be single girder or double girder depending on the number of support beams used. The girders are rigid and have been reinforced with rolled steel to make them stronger. This article will cover the advantages, types, applications, essential components, and leading manufacturers of the bridge cranes.
How Overhead Cranes Work
Motors provide the driving force that is required to hoist loads and at the same time move the girders along the end trucks. During operation, the mechanical power of the motor is transmitted to a system of gears which is coupled to wire ropes through a shaft. The compensation shaft reduces the speed of revolution of the gears depending on the required speed. The gears also help to increase the torque of the crane. The wire ropes are tied to a hook that is used to hoist loads up and down as the crane moves along the end trucks.
Main Types of Bridge Cranes are categorized into two depending on the number of girders installed in the design. 1. Single Girder Cranes(gruas monopuente) 2. Double Girder Cranes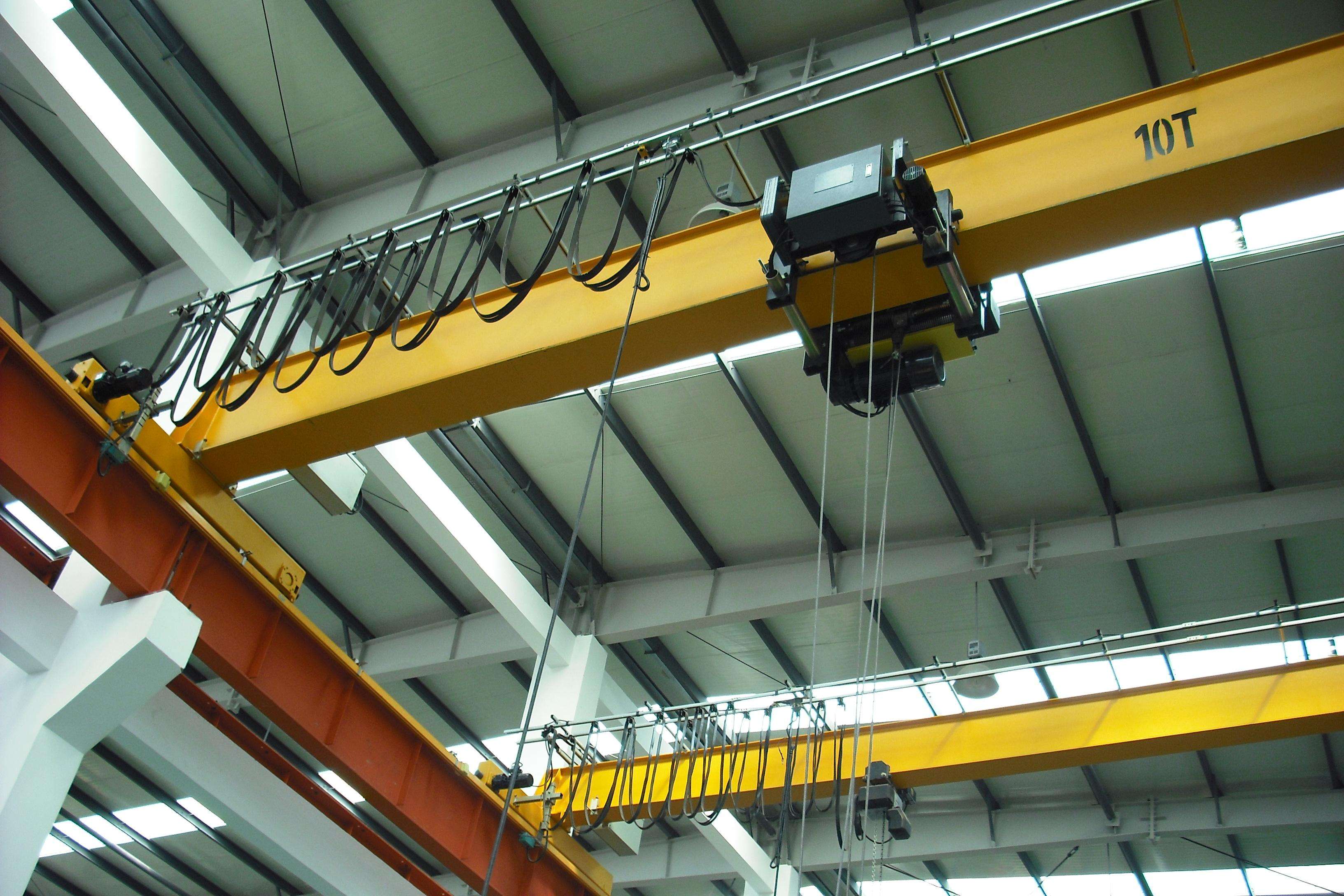 1. Single Girder Bridge Cranes
On a single girder crane, the end trucks support only one girder beam. The trolley and hoist systems then run on the bottom section of the bridge and the components to be lifted are transported horizontally along the bridge. If the design is well maintained, a single girder crane can be a useful piece of equipment in an industry that deals with light to medium weight materials. Single girder cranes use less material compared to double girder cranes. The beams of single girder cranes cover shorter beam spans.
2. Double Girder Bridge Cranes
In a double girder overhead crane, two girder beams are supported by end tracks on their either sides. in most designs, the trolley and the hoist are mounted on the top sides of the beams. The top-mounting ensures that the cranes can hoist weighty loads without breaking or experiencing excess mechanical stress. The cranes can support a longer hook height because of their elevated mechanical strengths(fortalezas mecánicas). Double girder overhead cranes are suitable for beams that span longer lengths and for heavy-duty applications.
Advantages Of Single Girder Cranes Y Double Girder Cranes
1. Single Girder Cranes
They are simple in design and cost less than their double girders counterparts.
They are cost-effective for light to medium load applications.
The cranes are easy to install and maintain.
They are effective for buildings and factories with low headroom.
Single girder cranes are lighter than double girder cranes.
2. Double Girder Cranes
They can support longer hook heights.
The cranes can be used in longer spans.
Double girder(bipuente) cranes are efficient for hoisting heavy-duty loads.
The cranes can either be used for indoors and outdoors activities.
Double girder cranes can support walkways on their structures.
Essential Components of Single Girder Overhead cranes
Motors Systems- motors provide the mechanical strength that is required to hoist loads and move cranes along girder beams. Motors also provide the turning force thas is required to move girder beams along the end trucks.
Control Systems- The systems are used to monitor and guide the operations of the cranes. Control systems are critical in identifying potential failures of the crane systems before they break down.
Electrical Systems- The electrical system is composed of circuits that supply motors with power and provide energy for the control systems.
Mechanical Systems- They include trolleys, hooks, wire ropes, and bearings that facilitate the motions of the cranes. Mechanical systems also help the girder beams move efficiently along the end trucks.
Applications of Overhead Cranes
Cranes are used in the following areas:
Construction sites.
Industrial manufacturing(

Manufacturas industriales

).
In ports for loading or offloading cargo from a ship.
In warehouses for storing heavy loads.
In vehicle assembling industries.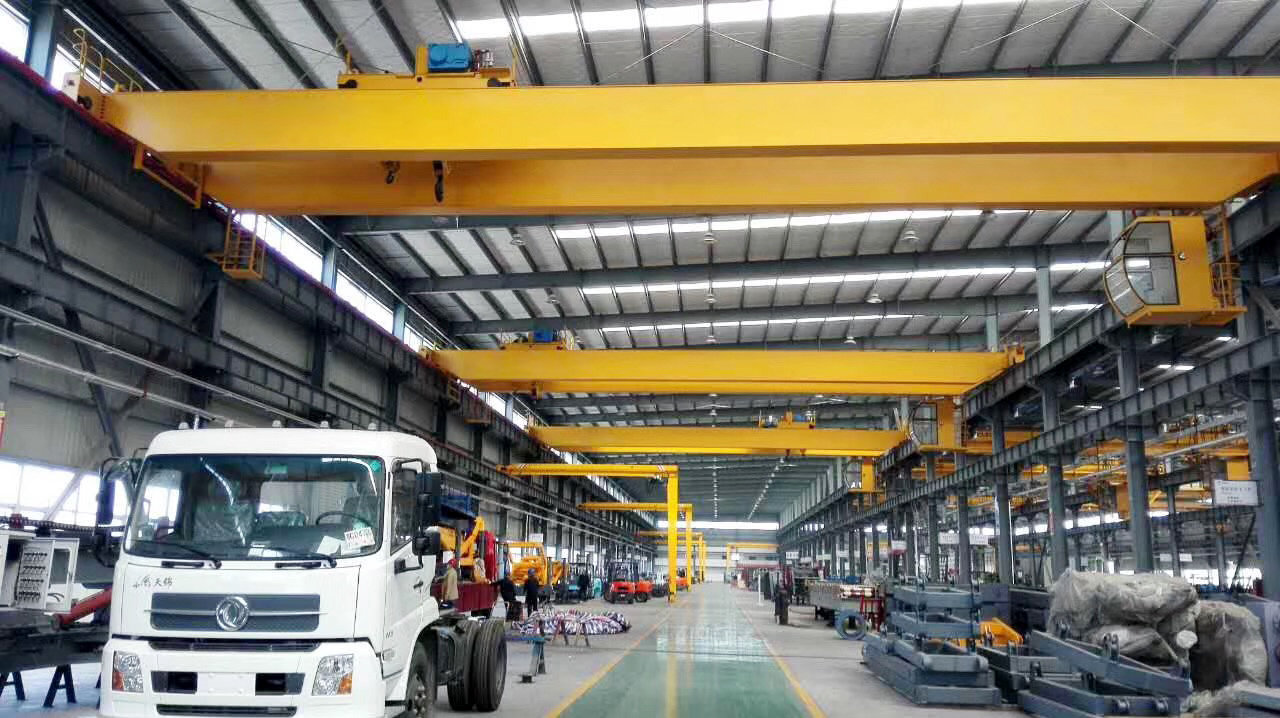 Precautions While Working With Single Girder Overhead Cranes
– Only trained and qualified operators should operate the cranes.
– All the mechanical moving parts of the cranes should be lubricated to minimize friction.
– People should now work under cranes during their operations to prevent accidents.
– Cranes should only hoist loads of recommended capacities to prevent overloading.
– Periodic maintenance should be done on the cranes to ensure safe operations.
Main Manufacturer of Bridge Cranes in China
AICRANE Machinery is a subsidiary brand of Aimix Group Co.,Ltd, located in China's biggest machinery manufacturer base Henan, is a professional industry and trade integration enterprise in Crane, Winch, Construction Machinery, etc. They have five factories to provide the manufacture, design, customized solution and after-sale service for worldwide customers. If you want to get more info of this company, you can click here: https://aicrane.com.mx
It is essential to understand the various types of overhead cranes, their advantages, and principles of operations. The knowledge is critical in helping one make the right decision when commissioning a particular overhead crane for performing specific industrial tasks.